Office Location:
4058 North Linden Road
Flint, MI 48504
Phone:
(810) 869-9983

Email:
[email protected]

Office Hours:
Hours by Appointment Only

Mondays:
3:00PM to 5:00PM

Tuesday – Thursday:
9:00AM to 7:00PM

Fridays:
12:00PM to 2:00PM

Saturday-Sunday:
Closed

Special arrangements can be made to accomodate scheduling conflicts. Call or e-mail to find a time that can work for you.
Better Food, Better Mood
Friday, January 27, 2012 @
04:01 AM
I'm always amazed that this is news.  Of course food affects moods, and if you fine tune the diet for your Metabolic Type™, you'll really start to hear what your body says about what you put in your mouth!  Something to think about.  Enjoy!
By
Kimberly Beauchamp, ND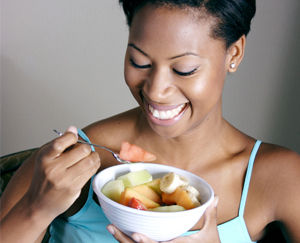 A traditional dietary pattern was associated with a lower likelihood of depressive and anxiety disorders
Food is the substance that we put into our bodies in the largest quantity, so it makes sense that what we eat affects how we feel. A study in the American Journal of Psychiatry found that food really does influence mood, and poorer quality diets are linked to some common psychiatric problems.
In a sample of over 1,000 women 20 to 93 years old, researchers investigated the association between different dietary styles—traditional, Western, and modern—and symptoms of depression and anxiety.
Traditional diets comprised vegetables, fruit, beef, lamb, fish, and whole grain foods.
Western diets were characterized by processed meats, pizza, chips, hamburgers, white bread, sugar, flavored milk drinks, and beer.
Modern diets consisted of fruits, salads, fish, tofu, beans, nuts, yogurt, and red wine.
Using a dietary questionnaire, researchers assigned a diet quality score. More points were given for eating less red meat and more fruits, vegetables, and low-fat dairy, and high-fiber or multi-grain breads.
Traditional food best for mood
The study found that a traditional dietary pattern was associated with a lower likelihood of depressive and anxiety disorders, whereas a Western diet was associated with a higher likelihood of psychological symptoms and disorders. Higher diet quality scores were also associated with lower levels of psychological symptoms. The modern dietary pattern didn't have a significant impact on depression or anxiety.
"A poor quality diet may be the result of mental health symptoms, rather than the cause," said the study's authors. So, while the study doesn't prove that a poor diet causes mental illness, it adds to the growing body of evidence suggesting that diet quality can affect various aspects of human health.
A closer look at traditional foods
Traditional foods…
…have been eaten for most of human history, with the notable exception of the last century. Tofu is a traditional food; soy protein powder is not.
…are as close as possible to the way they're found in nature. An ear of corn is a traditional food; high fructose corn syrup is not.
…haven't been altered or created in a laboratory. Butter is a traditional food; margarine is not.
…aren't processed to remove nutrients. Whole wheat is a traditional food; white bread is not.
In other words, when in doubt, stick with the original.
(Am J Psychiatry 2010;167:1–7)
Kimberly Beauchamp, ND, earned her bachelor's degree from the University of Rhode Island and her Doctorate of Naturopathic Medicine from Bastyr University in Kenmore, WA. She cofounded South County Naturopaths in Wakefield, RI, and now sees patients in East Greenwich and Wakefield. Inspired by her passion for healthful eating and her own young daughters, Dr. Beauchamp is currently writing a book about optimizing children's health through better nutrition.
Copyright © 2012 Aisle7. All rights reserved. www.Aisle7.net
Comments are closed.